Red carpet couture courtesy of Ruth Negga
Via Vogue
So..... it's been a week and a bit since the biggest Oscar mess-up since... well, forever! And while the big takeaway from the mistake seemed to be more about
how gracious La La Land was instead of celebrating how monumental 'Moonlight' winning is
, it feels like a good time to take a look back at some of the gems from the red carpet of the Academy Awards.
Brides.com featured dresses that hit all the right notes for brides-to-be
and while this year was a tight and unpredictable Awards season, the fashion was mad-exciting! There were the usual suspects, with their impeccable style like Nicole Kidman -
Nicole Kidman, guaranteed to bring her A-game to a red carpet!
Via Tom+Lorenzo
Priyanka Chopra
When fashion meets architecture - structural fashion
Via OscarGo
Emma Stone
Golden girl Emma Watson
Via US Weekly
Meryl Streep
My bucket list clothing wish? To wear a dress and pant combo!
Via PerezHilton
- but then we saw what was even more exciting this year, what I called the upstarts, the ladies and gentlemen who took the red carpet to a whoooooole other level with their style. My Oscar Best-Dressed was Ruth Negga who evoked a time long-gone with her dress but touched on one of this year's trends with her jewelled headband. I lovelovelove Ruth Negga because she looks like a silent screen actress of a bygone era and her fashion was on-point throughout award season. As she represented the film "Loving" and ultimately lost out to Emma Stone for the Best Actress honour, she was the highlight of night for me.
Regal in red
Via CelebMafia
AND, she and Viola Davis, who DID win a well-deserved statue for her role in "Fences" were proof-positive that a red dress can absolutely stun on the red carpet! Viola's look was flawless - she let the dress be the star while she kept the hair and makeup glam. She really did look regal and fierce on a night saw her move one step closer to EGOT glory!
Statuesque and unforgettable
Via The Hollywood Reporter
But the glamour didn't stop there - two other ladies were swoon-worthy and brought their A+++game to Oscar night: Kirsten Dunst and Taraji P. Henson.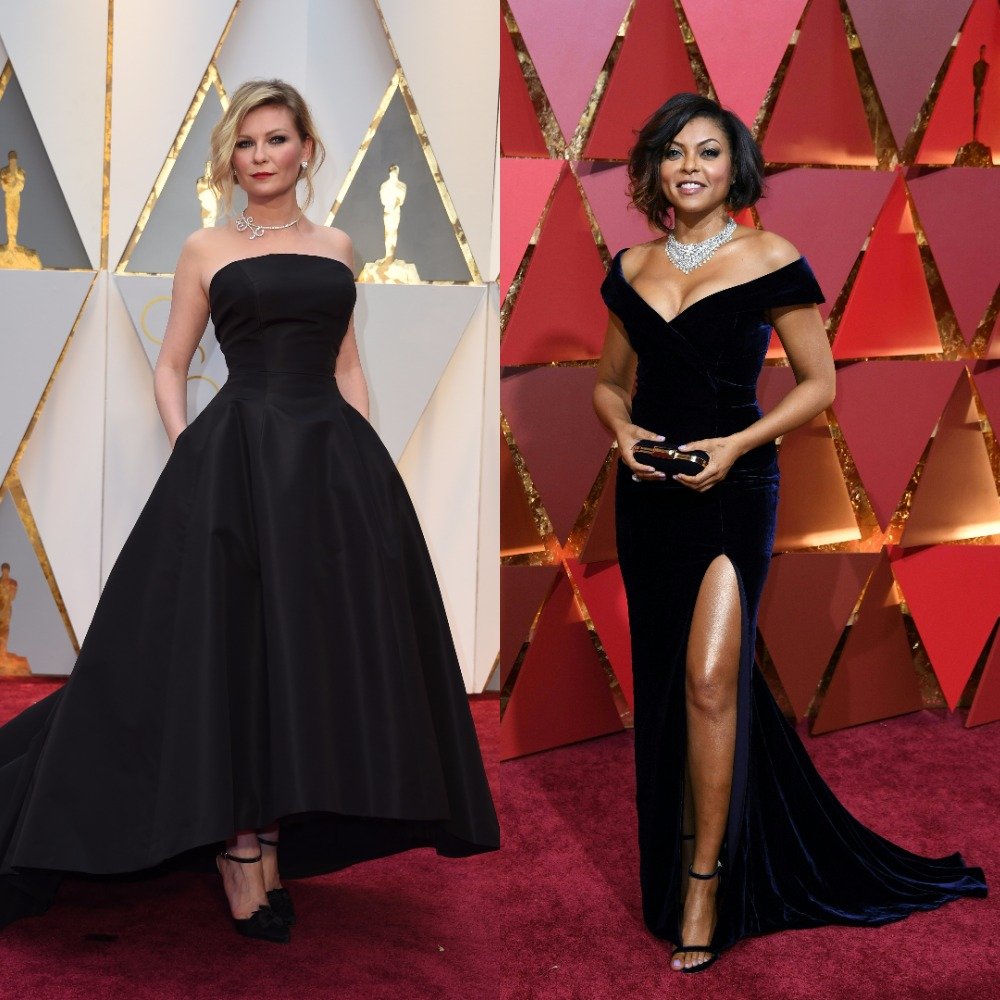 Back to black..... my favourite LBDs of the night
Via ScoopWhoop
Kirsten Dunst's dress was anything-but-basic black. We're so used to black strapless dresses and let's be honest, a black strapless dress will always look amazing, but what elevated this dress was the neckline - not sweetheart, it sat a little higher - and the tailoring. The waist was cinched beautifully; the cut of the neckline was chic, emphasized the torso and showcased just how impeccable the dress really was! The fit was fantastic and of course, the pockets were one of those throwback details that just added to the upscale cocktail style. Word on the street is that this dress was commissioned from a vintage 1952 design and the overall aesthetic was vintage glamour. Lesson of the day? Fashions are going to change and evolve but sometimes there's no school like the old school!
Vintage glamour + modern carpet = timeless Oscar look
Via New York Times
And this is the second year for Kirsten knocking it out of the park at an awards show - rewind to last year at the Golden Globes when she slayed in a black velvet dress that took us all by surprise!
Throwback master class on how to shut down a red carpet: Kirsten Dunst edition!
Via E!
Taraji P. Henson was SMOULDERING in a midnight blue velvet gown, and she was definitely feeling her look! The dress itself was fluid and sinewy and the cut was an awesome wiggle-meets-mermaid hybrid; her hair and make-up were spot-on and she was an absolute known-out! Velvet is having a huge moment now, whether it be Vans slip on runners, 90's-esque chokers, over the knee boots or leggings. But Taraji's blue velvet number was timeless; a beautiful colour with a drop-dead silhouette that was complemented - not overshadowed - with her hair, makeup and accessories!
LovedlovedLOVED Taraji's look
Via JustJared
Hailee Steinfeld looked ethereal in her floaty, sheer floral halter dress and while sheer can at times be overtly sexy, her dress was less peep-show and more woodland nymph (with a naughty side, wink wink)!
Flowery, floaty, feminine with a hint o' smoulder!
Via People
One non-dress look that made me look twice? Look down:
These shoes need a post dedicated to them, they're that gorgeous!
Via Celebitchy
No, not the hemline; a little lower...
Shoes that were the ultimate accessory!
Via Lainey Gossip
SQUEEEE! Those shoes... my god I hit rewind and them pause because they were fresh and a reminder that head-to-toe style really is HEAD TO TOE! The dress was goooood, but damn, those shoes were so, so choice and a case for statement shoes, and what bigger day to make a statement then on a wedding day?!
Aaaaaaand.... the men. They did not disappoint! While the ladies were making a splash on the carpet, the gents were no shrinking violets. Traditions tuxedos were given a tweak with sleek designs and styles....
Ivory never looked this fresh!
Via The Hollywood Reporter
....small but unique details to give the suits a dose of personality....
Tux, tails, shiny shoes and bling!
Via E!
Old Hollywood tux, new Hollywood shirt
Via US Weekly
....and forget orange: blue is the new black. There were lovely shades of blue that permeated the sea of black and stole the spotlight!
A tuxedo with no equals, as worn by Viggo Mortensen
Via New York Times
Taraji's male counterpart: Blue Velvet for Him!
Via Access Hollywood


From a galaxy far, far away... a tux that was out of this world! My best dressed man on of night
Via USA Today
What were the looks that lingered in YOUR mind long after the red carpet was rolled up and packed away for the next Oscars red carpet in 2018?
Wishing you a day as limitless as you are~
Lisa and April