Cake, glorious cake....
Via Mississauga News
I think I might've mentioned this a few times before, but just in case I haven't, here goes: I love cake.
I could be falling asleep and perk right up at just the mere thought of cake. And if there's any leftover cake in the house.....well, it's not pretty.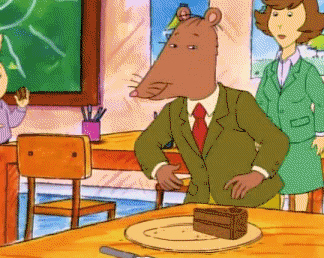 Forget Tinder, I'll only swipe right for cake!
Via giphy
Whether it's a Vachon Half-Moon, a slice of Sara Lee (frozen) pound cake, a kids' birthday-style sheet cake or a decadent bakery creation, I will gladly and cheerfully take part in a bite or two, or twelve. My brain is wired to see dinner as foreplay before the main event - dessert! There are two reasons why, when April and I are on a wedding, I stay on-site at the venue while April is with the bridal party. Firstly, I cry at the drop of a hat and will ALWAYS cry when I see the bride emerge from her staging area in her dress and makeup - and because tears are contagious, I don't want to be the one who starts a crying jag among perfectly made-up faces! And secondly, I'm impatient and suffer from serious FOMO and want to see everything as it's unfolding and that includes eyeballing the dessert situation. My Big Three matters of utmost importance for a wedding are outfit, colours and cake! And boy oh boy, we've really seen a host of trends over the last few years. Whether it was ruffles and pristine white cakes in royal icing and buttercreams -
Via Wedding Bells
-or vintage inspired multi-tiers
Via WeddBook
-watercolour numbers
Via Flair Bridesmaid
-and ombré creations
Via Weddingomania
-chandelier cakes precariously hung
Via Inside Weddings
-cupcake towers
Via Cosmopolitan
-or the risqué naked cakes
Now THIS is a tasteful nude!
Via Martha Stewart Weddings
- we've seen a lot of fresh ideas for a traditional wedding staple. But for all the new and exciting takes on cake, I think we've forgotten that the wedding cake is an extension of your wedding theme and has a pretty big role in the decor of your event! Believe us when we say it - people really DO look at the wedding cake; it's examined as closely as the bride's dress and the table arrangements. And people take pictures OF and WITH the cake! I ran across as article highlighting the importance of the wedding cake and things you should take into consideration when deciding on one.
*~Wedding Cake 101: The lowdown on a wedding highlight!~*
Is this the year you put you wedding style on blast and incorporate a cake that not only tastes great but is an absolute showstopper? Let us know what you're thinking (and if we can snag a slice, for research purposes, of course!)
Wishing you a day as limitless as you are~
Lisa and April